You are hereCPN 10-Year Anniversary / Bridging People and Businesses! - 10-Year Anniversary of Chinese Professionals in Norway
Bridging People and Businesses! - 10-Year Anniversary of Chinese Professionals in Norway
---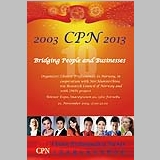 [Poster (PDF ~353KB)][Poster II (PDF ~308KB)]
Another version: [Poster (JPG ~9.5MB)][Poster II (JPG ~9.3MB)]
Telenor Expo, Snarøyveien 30, 1360 Fornebu
21. November 2013, 17.00-21.00
Chinese Professionals in Norway (CPN, www.cpn2003.no), founded in 2003, has become an important communication platform between Norway and China, and between wor
king immigrants with higher education and the Norwegian society. To celebrate CPN's 10-year anniversary, a full-evening event will be arranged, including presentations, artistic performance, and a buffet dinner in cooperation with NorAlumni-China via Research Council of Norway, and with IMDi project.
The H. E. Ambassador Jun Zhao will attend the event and give a speech. The invited guests represent public sectors, and industries of Norway and China, in addition to well-established Chinese experts and professionals from CPN. This will be a golden opportunity for socializing with Norwegians and business networks. It also provides a unique chance for Norwegians who are interested in establishing in China or enhancing their cooperation with China.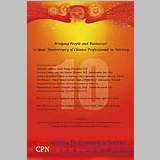 Program
Registration (16:30-17:00)
Part I (17:00-17:50)


Welcome Address, Xinli Wang, President CPN
Overseas Chinese and the Chinese Dream, H.E. Ambassador Jun Zhao
Attracting Global Talents to Norway, Tarje Bjørgum, Strategic Advisor Abelia
NorAlumni – Where Relationships Make a Difference? Bjørn Tore Kjellemo, Director of the Department for Cooperation and Development Research, Research Council of Norway
Two Cultures, Double Strength, Xing Cai, Prof. Simula Research Lab
999 Roses! Xiuhua Zhang, Vice-President CPN

Part II (17:50-18:45) Singing for you and CPN!

By Artists from China & CPN Choir

Part III (19:00) CPN Fashion Show, Chinese buffé, Wine and soft drinks, Social networking
Please register you at http://cpn2003.no/en/node/89, within 11th November.
Welcome!