You are hereReport about the workshop on Guidance on Entrepreneurship – Practical Issues
Report about the workshop on Guidance on Entrepreneurship – Practical Issues
---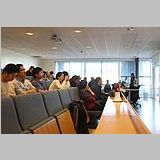 The second workshop of the IMDi project was held on 8th November at University College Østerfold.
Over 60 participants from 7 countries joined this one-day workshop. During the bus trip to Fredrikstad, a speed dating among the participants was organized by Dr. Xiuhua Zhang, President of CPN. The speed dating worked as effective communication among the participants, getting them to know each other in a short time. In a warm and inspiring atmosphere, the joyful face-to-face interactions also helped the participants to find out whom they can contact with further.
The topics of the workshop centered around practical issues about startups, such as enterprise registration, lectured by Dr. Linmei NIE who is CEO of Centre for Sustainable Development and Innovation of Water Technology, and tax report and payment, lectured by Ivy who is an experienced accountant from iMente juss & regnskap AS. Both speakers beforehand carefully prepared detailed information about the topics. At the workshop, there was also a Q&A session between the audience and the speakers, with follow-up discussions. The guided and useful information aimed to ease startups with respect to registration and reporting.
Moreover, Professor WU Hong gave an introduction to the university and city history together with his student Nicolas. They also showed the participants around the university and the old part of the city.
Apart from the brilliant weather, all participants were equally satisfied with this informative and joyful workshop, as well as meeting many future partners cross nationalities.
Presentations can be downloaded below.
Photos from the workshop are shown here
Reported by Xiuhua Zhang
| Speaker | Title | Download |
| --- | --- | --- |
| Nie Linmei | How to start your business in Norway? | ⇓ |
| Ivy Evensen | Enterprise taxation and accounting in Norway | ⇓ |
| Wu Hong | Welcome to Østfold University College | ⇓ |
| Xiuhua Zhang | Report about the workshop on Guidance on Entrepreneurship – Practical Issues (MS Word) | ⇓ |
| Xiuhua Zhang | Report about the workshop on Guidance on Entrepreneurship – Practical Issues (PDF) | ⇓ |