---
As part of the new CPN strategy to work more closely with Norwegian Industry and to provide support to the international professionals working in Norway, Aker Solutions and CPN jointly arranged a seminar on 2013.04.11.
Initiated by CPN and highly supported by the management in Aker Solutions, the seminar with title "Aker Solutions in Norwegian Oil and Gas Industry" got high attention among the CPN members as well as other groups with international background: totally 85 people from 10 countries or areas registered and attended the seminar.
CPN is pleased to inform that CPN and Aker Solutions will jointly arrange a seminar in Aker's office at Fornebu on 2013.04.11.
You are warmly welcome!
Please note: The registration of seminar opens at http://workinginnorway.no/node/8321, but please book the date and time now. The seminar will be in English, open to all and free of charge.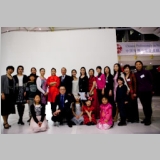 CPN members did their best efforts to reach this perfect day as a big family tradition. As said by the toaster master, "we all Chinese including overseas have blood links to China and China is a motherland for many. Chinese culture and traditions bring us together". The show from CPN members and professional performers were excellent and the food from "CPN kitchen" was delicious. The songs, "Mother's worry while the son traveling far away from home" and "I love peach flowers, I love my home" by visiting parent Mr. Wang Li-Yin touched the audiences to tears and the fashion show from CPN fashion team and their children brought the show to the high moments, the kid dance "Gangnam style" attracted many participants including Ambassador Mr. Zhao Jun to the dancing floor……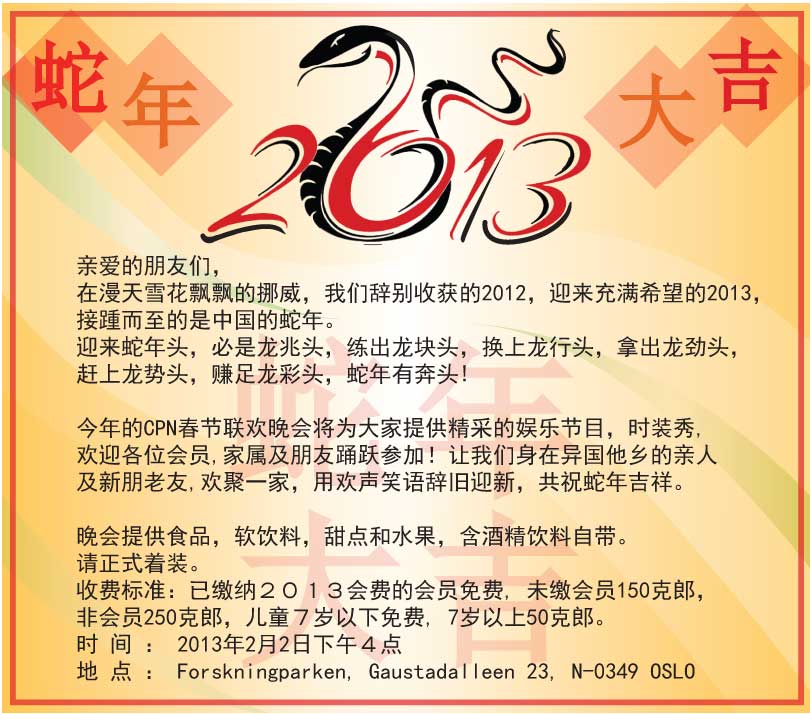 CPN is glad to invite all friends to join us for celebrating the coming Chinese New Year, year of snake, which starts on February 10th, 2013. The party will be held at Research Park (Forskningsparken, Gaustadalléen 21, N-0349 Oslo). 16:00, Saturday, February 2nd, 2013.
CPN members, CPN junior club members and invited guests will perform various shows during the party. Chinese food, soft drink, dessert and fruit will be served.
Welcome!
Please check out the detail information on the poster shown to the left (in Chinese). Please register you at http://cpn2003.no/?q=node/300 within January 27th, 2013.
The party is free of charge for:
(1) CPN member who has paid for 2013 CPN membership before 27.01.2013.
(2) Kid under 7 years old.
Party fee applies for:
(1) CPN member who does not pay for 2013 CPN membership before 27.01.2013: 150kr (Useful Information on 2013 CPN membership Payment http://cpn2003.no/bbs/viewtopic.php?f=6&t=313)
(2) Kid over 7 years old: 50kr.
(3) Non-CPN-Member: 250kr.
Party fee please send to CPN account at DNB bank 05395799691 before 27.01.2013. Extra fee applies for paying by cash at entrance.
The location is shown in the map below, or check out the instructions here: [English][Norsk]